Instruction manual for flat face mask machine
The flat face mask machine developed and produced by SUNY GROUP is a highly efficient integrated equipment, which is mainly used for the fully automatic production of flat face masks with less than four layers without edge sealing.
This equipment adopts one-to-two structure design and uses ultrasonic welding technology. It has the characteristics of advanced technology, reasonable structure, stable operation and convenient operation.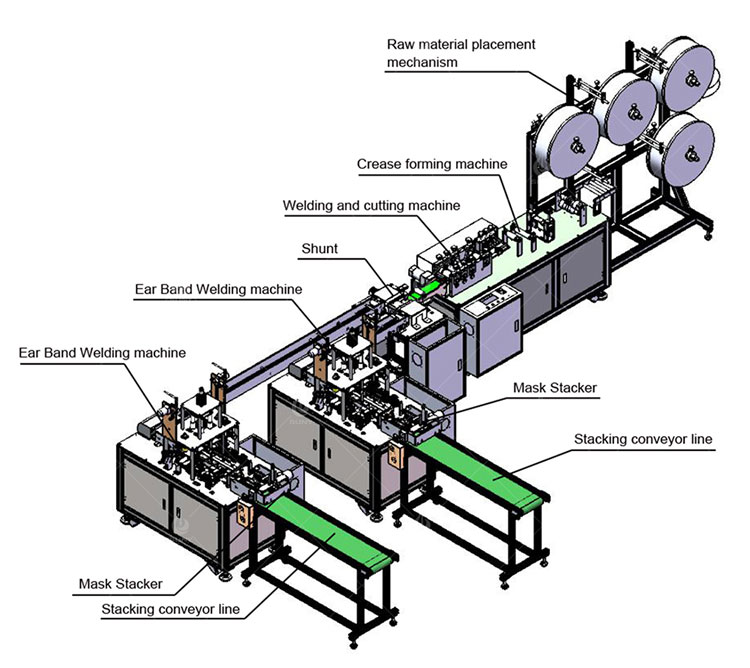 1. Applicable materials for equipment: Non-woven fabrics, ultra-fine polypropylene fiber meltblown cloth, ultra-thin polypropylene meltblown cloth, sanitary gauze, calendered cloth, activated carbon cloth, filter paper and other non-woven materials can be used for masks. produce.
2. Equipment use functions (1) Rolling material (2) Nose bridge line (3) Forming (4) Ultrasonic embossing (5) Slicing (6) Ultrasonic ear line (7) Automatic cutting
3. Applicable products (1) 2~4 layer flat masks (mask size 17.5x9.5cm, 17.5x9cm masks can be produced by changing the tray) (2) civilian flat masks (3) medical flat masks
4. Equipment function (1) After applying pressure with ultrasonic and special knurling wheel, the above functions can be obtained. (2) No smoke, sparks, no damage to the edge of the cloth during processing, and burrs can also be avoided. (3) The knurled wheel can be replaced with various circular knurled wheels according to customer requirements. (4) No preheating is required during manufacturing, and can be operated continuously. (5) The equipment can be adjusted and the pallet can be changed to meet customer needs Mask width (6) The knurled wheel made of special alloy steel material, and through special heat treatment process, has the characteristics of wear resistance and long service life (7) The equipment is simple to operate and easy to maintain. Instruction manual for flat mask machine 3
5. Equipment composition: One-to-two flat mask equipment composition and functions: 1. Feeding machine: install the mask non-woven fabric roll and nose line roll 2. Main machine: make the mask body 3. Feeder: transfer and distribute the mask body to Lower station 4. Conveyor belt-1: Transfer the mask body to the ear belt machine-1 5. Ear belt machine-1: Weld the ear belt 6. Outlet line-1: Output the finished mask 7. Conveyor belt-2: Transport the mask body to Earband machine-2 8. Earband machine-2: Welding earband 9. Outlet line-2: Output mask finished product