Products Description
| | |
| --- | --- |
| Products Name | 1+2 Automatic Face Mask Making Mahcine |
| Capacity | 100-120pcs/min |
| Power | 8kw |
| Voltage | 220V 1 Phase |
| Delivery Time | Delivery in 3-15 days |
| Weight | 1500kg |
| Dimension(L*W*H) | 6900*3073*2022mm |
The face mask machine will finish all the processing from the feeding to nose-clip fixing, edge sealing, cutting the finished products automatically, complete line include 1 set mask making machine and 1 sets automatic ear loop welding machine. With the new generation of mask machine equipment, the number of cylinders used is reduced, and motors are used instead, so that the failure rate is greatly reduced and the production eficiency rises linearly.
Machine Structure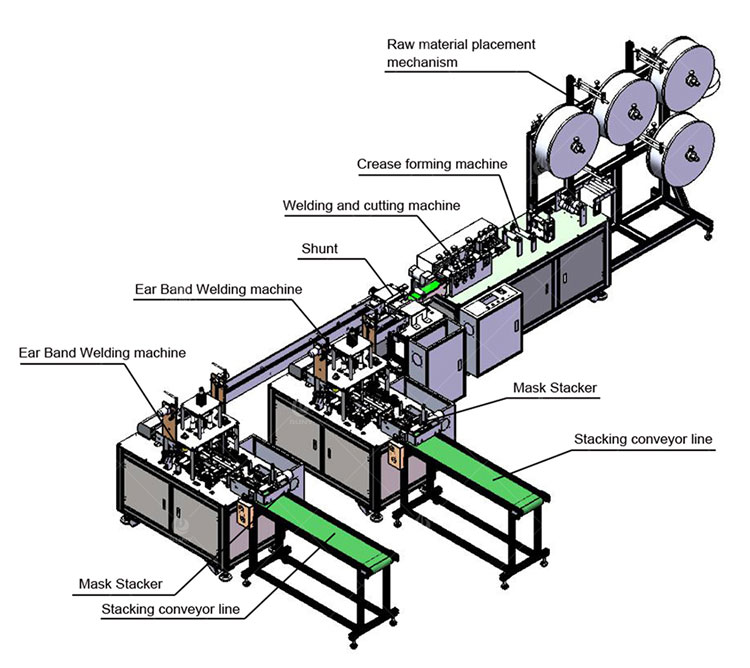 This machine is mainly used for the automatic making of flat masks: the whole roll of fabric is driven by rollers after unwinding, and the fabric is automatially folded and hemmed; Bridge of nose strip whole roll traction uroll,cut to length and guide into hemmed fabric. Two sides Ultrasonic welding to the seal, then ultrasonic 2 ends sealing, cutting and shaping by a cutter; conveying the mask to the two mask ear band welding stations through an assembly line, and finally forming the mask by ultrasonic welding; when the mask is made, it is transported to the flat belt line for collection.
Features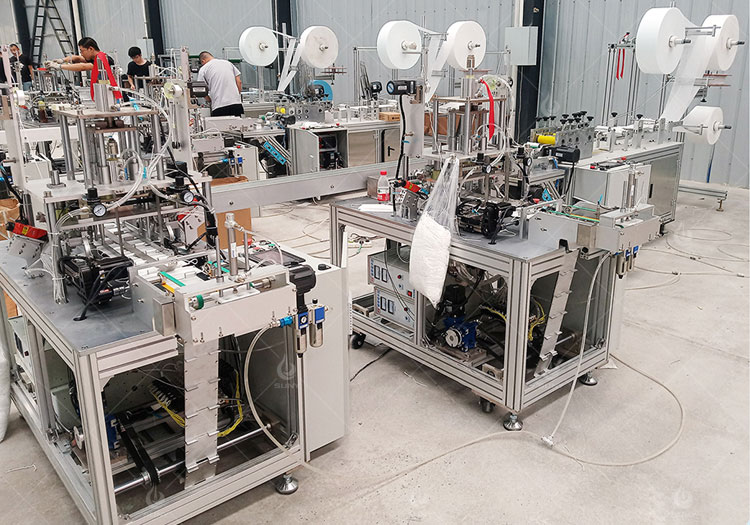 INTELLIGENT TOUCH PLC:PLC has three languages to choose from, Chinese, English and another language you want to choose.
WELDING & CUTTING MACHINE:From fabric, folding, welding to cutting, the whole blank production process is fully automatic, and the ultrasonic welding roller can customize logo.
EAR LOOP WELDING MACHINE:The welding structure of the new ear strap adopts double guide rails for horizontal welding and multiple servo motors for driving, so the welding speed is fast and stable, and the qualifed rate of the mask is over 98%.
STACK SYSTEM:Automatic counting stack equipment, servo motor, customer can customize the number of stacks.
Packing and Delivery
The machine should be ready regularly according to the contract date after the seller receives the deposit confirmed by both parties.The seller shall notify the buyer through e-mail telephone message that the machine has been completed and is ready for delivery.